In 2014, 3 key ideas for brands, marketers and creative to remember as they are trying to engage with consumers on their phones:
1. Mobile web is becoming richer and more fully featured.
2. Only few brands have been down the road of creating dedicated mobile experiences.
3. Users access it by simply going to a web page.
Mobile Web (or Web 3.0) refers to access to the world wide web, i.e. the use of browser-based Internet services, from a mobile device.


A Richer Mobile Web
In the past couple years, mobile browsers have gained direct access to the hardware of mobile devices (including accelerometers and GPS chips), and the speed and abilities of browser-based applications have considerably improved.
Technologies that are now accessible allowed by the mobile web:
Mobile browsers allows you to create sophisticated interfaces with almost no latency in the graphics or audio from a simple web page. What was only reserved for Native Application until recently. So the frontier between native and web mobile experiences is anticipated to become increasingly blurred, as technology progresses.
Best in Class Mobile Experiences
First, let's go over what should be considered as "standard mobile experience" for a brand in 2014: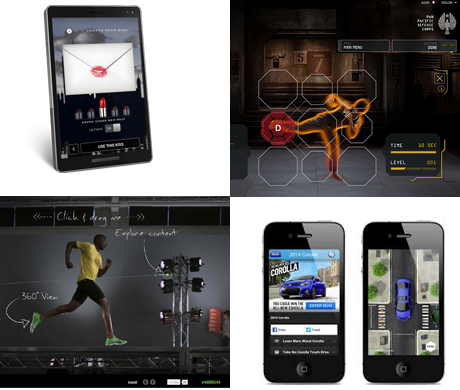 The use of touch screen features (drag, loooong scroll..) make these experiences engaging enough that a user will want to explore the content offered by a brand.
Although some of the best examples using the mobile web at its maximum are Chrome Experiments (see below), i would argue that brands are already catching up:
The most advanced mobile experiences i have seen so far:
The role of the agency is to insure that mobile experiences are crafted to enhance the brand or campaign's message. otherwise it's a gimmick that will be turned down by consumers.
Let me know if you have seen other great experiences using the mobile web!